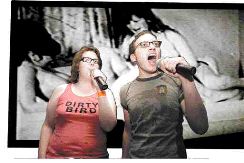 PORNAOKE 2005 SCHEDULE
Watch the site for our upcoming Pornaoke events at a location near you!
We all love porn, we all love karaoke.... now you got the best of both, it's Pornaoke!!!
It does'nt matter what'cha call it, Porno Karaoke, Porneoke, Pornaoki, or Porneoki....
it's the most fun you'll ever have in public making sound effects to your favorite porn scenes!
(Just don't tell Mom....)
Free condoms, drink specials, porn giveaways, prizes, porn-beats spun all night! Prizes for: Most Believable, Most Creative, Most Likely to have an STD, and Booby Prize for Premature Articulation! Hosted by Psydde Delicious and Athena Lourdes. Video projection by Large Marge, Pornaoke Rap performed by MC Kooka Koola!