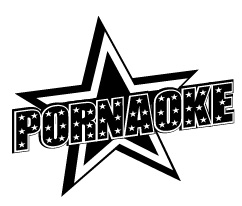 PORNAOKE 2005 SCHEDULE
...coming soon. Watch the site for Pornaoke events at a location near you!
Pornaoke: Must be seen to be believed! Dirty little tramp Psydde Delicious is at it again! We provide the scenes, you provide the screams! ..get on the mic and lay down your own dialogue, moans, and groans to scenes from your favorite moments in porn! Sponsored by TLAvideo.com, PornForPunks.com, FastCheapParty.com, TittySlap.com, and Damaged Goods! Free condoms, drink specials, porn giveaways, prizes, porn-beats spun all night! Prizes for: Most Believable, Most Creative, Most Likely to have an STD, and Booby Prize for Premature Articulation! Hosted by Psydde Delicious and Athena Lourdes. Video projection by Large Marge!!