WHO IS THE MAN BEHIND THE DOMINATION?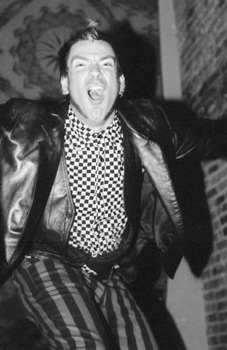 OUR LORD: PSYDDE DELICIOUS

In the words of Philadelphia Style magazine, "...Psydde Delicious is a mess." The designer, promoter, party monger, and all around dirty boy is the creator and host of the now infamous Fast Cheap and Out of Control party. Delicious, when not encouraging amateurs to take it off for the "Cheap Slut Go-Go Contest," can often be found lacing people into beautiful but binding corset creations as part of his job description in Delicious Corsets , with partner Amy Schmitz. Psydde is also the monstrosity responsible for ROCK N ROLL QUEER BAR: An irreverent circus for the homopunk, queer-rocker set. He is responsible for the Pornaoke (He provide the scenes, YOU provide the screams!) But his most devastating contribution to the decline of western civilization may be Titty Slap, An all girl trampoline topless slap fight. Psydde feels it is his responsibility and goal to destroy the inhibitions of uptight, repressed, and narrow-minded individuals everywhere!